Hansen EZ-SRV Cartridge Pressure Relief valves protect refrigeration pressure vessels and other refrigeration system components from excessive pressure. If an abnormally high pressure occurs, the cartridge pressure-relief valve will open to relieve the excess pressure, preventing potential damage to equipment and injury to personnel.
Read More →
Designed to provide emergency relief from excessive pressure in refrigerant-containing vessels, they are built in strict conformance with ASME Boiler and Pressure Vessel Code requirements for safety relief devices.
Read More →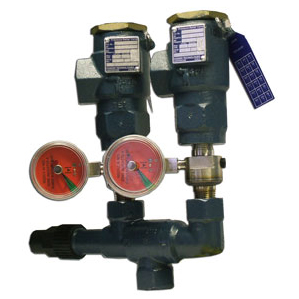 Hansen rupture disc assemblies (RDAs) are used to indicate which pressure-relief valve has discharged. A pressure-relief valve will re-seat after discharging. However, a rupture disc remains open after bursting. (A rupture disc is not a stand alone safety device.) An installed pressure gauge or switch (required by code) provides a visual or electronic indication that the rupture disc has burst.
Read More →